BISS | RBISS NZ Ch Redsomore Bullets and Aces
"Bull"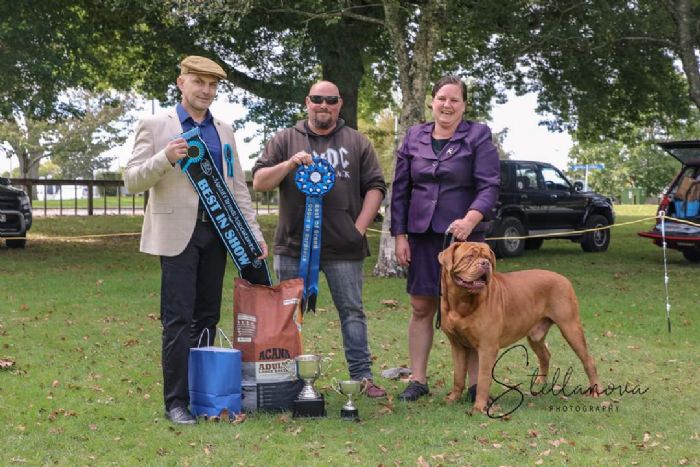 Bull is truely a special Boy. At the tender age of 5 months he stunned us by being awarded "Best Dog" at the 2017 Dogue de Bordeaux Speciality Show, and being awarded the Dog CC by Judge Luis Teixeria (due to his age it could not be accepted). At 12 months he Gained his NZ Champion Tile and at 15months his Bronze Merit. He is a Stunning example of the Breed, with great temperament and Bloodlines.

2018 proved to be a great year for Bull in the Show Ring with Multiple Best of Breed wins, Puppy in Show & Reserve Best in Show. He also qualified for Puppy of the Year and Crufts. Looking forward to seeing how his progress in 2019.

2019 was another great year for Bull with Multiple Best of Breed wins, Intermediate in Specialty Show and qualifying for Crufts again.

2020 Bull started off the year with a bang, and received his first Intermediate of Group win at an all breeds show.

2021 Bull came out of simi Retirement to attend the Mastiff Breeds Association Champ show with that he totally blew us away being Awarded Best in Show under FCI Judge Viktor Alexsovski. He truly is a very special boy.
Pedigree

| | |
| --- | --- |
| Breed : Dogue de Bordeaux | Bred by : Lynda Lovell |
| Sex : Dog | Owned by : Heather Wood & Dallas Wood |
| Date of Birth : 26-Apr-17 | Handled by : Heather Wood |
| Call Name : Bull | Available for stud : No |

Sire : Emberez The Big Show (UK)
S: Tyrannus Tommy Gun at Emberez (UK)
S: IRL CH Damalosie Red Roochi (UK)
D: Tyrannus Tyla (UK)
D: Tryannus Storm at Emberez (UK)
S: PRT CH. MEX CH. AM CH. SPA CH. C.I.B Moby DE Legend (NLD)
D: NLD CH. Rhodonite Renais for Tryannus (UK)
Dam : Paragon's Lucia Valentina (IMP USA)
S: Paragon's Prince (IMP USA)
S: Paragon's Grizzly (USA)
D: Old School's Abira (USA)
D: Bayla Cum Sangreal (NLD)
S: Emberez The Big Show (UK)
D: IPAM Van De Paterhoek (NLD)
Results
26-Mar-22

Best of Breed, Dog CC, Open of Breed


Mastiff Breeds Association (Champ Show)

13-Jun-21

Best of Breed, Best Dog, Open of Breed


Hibiscus Coast Kennel Association (Show 1) (Open Show)

12-Jun-21

Best of Breed, Best Dog, Open of Breed


Purina Pro Plan Auckland Exhibition Centre (Show 2) (Open Show)

17-Apr-21

Best in Show, Best of Breed, Dog CC, Open in Show


Mastiff Breeds Association (Champ Show)

11-Apr-21

R/Up Best of Breed, Res Dog CC, Open of Breed


Hawkes Bay Non-Sporting & Utility Dog Society (Champ Show)

6-Dec-20

Best of Breed, Dog CC, Open of Breed


East Coast Ladies Kennel Association (Champ Show)

5-Dec-20

Best of Breed, Dog CC, Open of Breed


East Coast Ladies Kennel Association (Champ Show)

28-Nov-20

Best of Breed, Dog CC, Open of Breed


New Plymouth Kennel Centre (Champ Show)

28-Nov-20

Best of Breed, Dog CC, Open of Breed


South Taranaki Kennel Centre (Champ Show)

27-Nov-20

R/Up Best of Breed, Res Dog CC, Open of Breed


New Plymouth Kennel Centre (Champ Show)

27-Nov-20

Best of Breed, Dog CC, Open of Breed


Taranaki Non-Sporting & Utility Dog Society (Champ Show)

31-Oct-20

Best of Breed, Dog CC, Open of Breed


Taupo Kennel Association (Show 1) (Champ Show)

24-Oct-20

Best of Breed, Dog CC, Open of Breed


Tauranga Kennel Association (Show 1) (Champ Show)

8-Mar-20

Best of Breed, Dog CC, Intermediate of Breed


Hamilton Kennel Association (SHOW 2) (Champ Show)

7-Mar-20

Best of Breed, Dog CC, Intermediate of Breed


Hamilton Kennel Association (SHOW 1) (Champ Show)

1-Mar-20

Best of Breed, Dog CC, Intermediate in Group


Central Hawkes Bay Kennel Society (Champ Show)

29-Feb-20

Best of Breed, Dog CC, Intermediate of Breed


Central Hawkes Bay Kennel Society (Show 1) (Champ Show)

29-Feb-20

Best of Breed, Dog CC, Intermediate of Breed


Central Hawkes Bay Kennel Society (Show 2) (Champ Show)

16-Feb-20

Best of Breed, Dog CC, Intermediate of Breed


Tokoroa Canine Association (Show 2) (Champ Show)

15-Feb-20

Best of Breed, Dog CC, Intermediate of Breed


Central North Island Utility & Non Sporting Dog Association (Show 2) (Champ Show)

15-Feb-20

Best of Breed, Dog CC, Intermediate of Breed


Central North Island Utility & Non Sporting Dog Association (Show 1) (Champ Show)

15-Feb-20

Best of Breed, Dog CC, Intermediate of Breed


Tokoroa Canine Association (Show 1) (Champ Show)

12-Jan-20

R/Up Best in Group, Best of Breed, Best Dog, Intermediate in Group


Cambridge Kennel Association (Open Show)

12-Jan-20

Best of Breed, Best Dog, Intermediate in Group


Hauraki Canine Association (Open Show)

1-Dec-19

R/Up Best of Breed, Dog CC, Intermediate Dog


Taranaki Non-Sporting & Utility Dog Society (Champ Show)

1-Dec-19

Best of Breed, Dog CC, Intermediate of Breed


South Taranaki Kennel Centre (Champ Show)

30-Nov-19

Best of Breed, Dog CC, Intermediate of Breed


Taranaki Non-Sporting & Utility Dog Society (Champ Show)

30-Nov-19

Best of Breed, Dog CC, Intermediate of Breed


South Taranaki Kennel Centre (Champ Show)

24-Nov-19

Best of Breed, Dog CC, Intermediate of Breed


Franklin Kennel Association (Show 1) (Champ Show)

24-Nov-19

Best of Breed, Dog CC, Intermediate of Breed


Franklin Kennel Association (Show 2) (Champ Show)

3-Nov-19

Best of Breed, Dog CC, Intermediate of Breed


Taupo Kennel Association (Show 2) (Champ Show)

2-Nov-19

Intermediate Dog


Taupo Kennel Association (Show 1) (Champ Show)

5-Oct-19

Best of Breed, Dog CC, Intermediate of Breed


Marlborough Sunshine Show (Champ Show)

5-Oct-19

Best of Breed, Dog CC, Intermediate Dog


National Dog Show 2019 (Champ Show)

5-Oct-19

Best of Breed, Dog CC, Intermediate in Show


Mastiff Breeds Association (Champ Show)

2-Oct-19

Best of Breed, Dog CC, Intermediate of Breed


Mastiff Breeds Association (Champ Show)

7-Sep-19

Best of Breed, Dog CC, Intermediate of Breed


Huntly & District Kennel Association (Show 1) (Champ Show)

16-Jun-19

R/Up Best of Breed, Res Dog CC, Intermediate of Breed


Hauraki Canine Association (SHOW 1) (Champ Show)

16-Jun-19

Best of Breed, Dog CC, Intermediate of Breed


Hauraki Canine Association (SHOW 2) (Champ Show)

8-Jun-19

Best of Breed, Dog CC, Intermediate of Breed


Black Hawk Auckland Exhibition Centre (SHOW 1) (Champ Show)

8-Jun-19

Best of Breed, Dog CC, Intermediate of Breed


Black Hawk Auckland Exhibition Centre (SHOW 2) (Champ Show)

12-May-19

R/Up Best of Breed, Res Dog CC, Intermediate of Breed


Eastern Bay of Plenty Kennel Association (Show 2) (Champ Show)

5-May-19

Best of Breed, Dog CC, Intermediate of Breed


Hawkes Bay Non-Sporting & Utility Dog Society (Champ Show)

5-May-19

Best of Breed, Dog CC, Intermediate of Breed


Hawkes Bay Kennel Association (Show 2) (Champ Show)

4-May-19

Best of Breed, Dog CC, Intermediate of Breed


Hawkes Bay Non-Sporting & Utility Dog Society (Champ Show)

4-May-19

Best of Breed, Dog CC, Intermediate of Breed


Hawkes Bay Kennel Association (Show 1) (Champ Show)

7-Apr-19

Best of Breed, Dog CC, Junior of Breed


Cambridge Kennel Association (SHOW 3) (Champ Show)

9-Mar-19

Best of Breed, Dog CC, Junior of Breed


Hamilton Kennel Association (SHOW 2) (Champ Show)

24-Feb-19

Best of Breed, Dog CC, Junior of Breed


North Harbour Kennel Association (SHOW 2) (Champ Show)

17-Feb-19

Best of Breed, Dog CC, Junior of Breed


Central North Island Utility & Non Sporting Dog Assn (SHOW 2) (Champ Show)

16-Feb-19

Best of Breed, Dog CC, Junior of Breed


Tokoroa Canine Association (SHOW 1) (Champ Show)

27-Jan-19

Best of Breed, Dog CC, Junior of Breed


Auckland Kennel Council (Champ Show)

26-Jan-19

Best of Breed, Dog CC, Junior of Breed


Auckland Non-Sporting & Utility Dog Assn (Champ Show)

27-Oct-18

Best of Breed, Dog CC, Open of Breed


Taupo Kennel Association (SHOW 1) (Champ Show)

22-Oct-18

Best of Breed, Dog CC, Open of Breed


Tauranga Kennel Association (SHOW 2) (Champ Show)

6-Oct-18

Best of Breed, Dog CC, Junior of Breed


National Dog Show 2018 (Champ Show)

2-Sep-18

Best of Breed, Dog CC, Open of Breed


Huntly & District Kennel Association (SHOW 2) (Champ Show)

1-Sep-18

Best of Breed, Dog CC, Open of Breed


Huntly & District Kennel Association (SHOW 1) (Champ Show)

26-Aug-18

Best of Breed, Dog CC, Open of Breed


Rotorua Kennel Association (SHOW 2) (Champ Show)

25-Aug-18

R/Up Best of Breed, Res Dog CC, Open of Breed


Rotorua Kennel Association (Champ Show)

12-Aug-18

Best of Breed, Dog CC, Open of Breed


Ladies Kennel Association (Champ Show)

11-Aug-18

Best of Breed, Dog CC, Open of Breed


Ladies Kennel Association (Champ Show)

15-Jul-18

Best of Breed, Dog CC, Junior of Breed


Auckland Non-Sporting & Utility Dog Assn (Champ Show)

17-Jun-18

Best of Breed, Dog CC, Junior of Breed


Hauraki Canine Association (SHOW 1) (Champ Show)

17-Jun-18

Best of Breed, Dog CC, Junior of Breed


Hauraki Canine Association (SHOW 2) (Champ Show)

10-Jun-18

Best of Breed, Dog CC, Junior of Breed


Auckland Exhibition Centre (Champ Show)

9-Jun-18

Best of Breed, Dog CC, Junior of Breed


Auckland Exhibition Centre (Champ Show)

20-May-18

Best of Breed, Best Dog, Open of Breed


Kumeu Kennel Association (RED SHOW) (Open Show)

12-May-18

Best of Breed, Dog CC, Open of Breed


Eastern Bay of Plenty Kennel Association (Champ Show)

14-Apr-18

Best of Breed, Dog CC, Puppy of Breed


Cambridge Kennel Association (Champ Show)

3-Mar-18

Best of Breed, Dog CC, Puppy of Breed


Hamilton Kennel Association (Champ Show)

3-Mar-18

R/Up in Show, R/Up Best of Breed, Dog CC, Puppy in Show


Dogue De Bordeaux Club (Champ Show)

18-Feb-18

Best of Breed, Dog CC, Puppy of Breed


Tokoroa Canine Association (Show 2) (Champ Show)

18-Feb-18

Best of Breed, Dog CC, Puppy of Breed


Central North Island Utility & Non Sporting Dog Association (SHOW 2) (Champ Show)

17-Feb-18

Best of Breed, Dog CC, Puppy of Breed


Central North Island Utility & Non Sporting Dog Association (SHOW 1) (Champ Show)

17-Feb-18

Best of Breed, Dog CC, Puppy of Breed


Tokoroa Canine Association (Show 1) (Champ Show)

21-Jan-18

Best of Breed, Dog CC, Puppy of Breed


Kapi-mana Kennel Society (SHOW 1) (Champ Show)

21-Jan-18

Best of Breed, Dog CC, Puppy of Breed


Kapi-mana Kennel Society (SHOW 2) (Champ Show)

20-Jan-18

Best of Breed, Dog CC, Puppy of Breed


Manawatu Kennel Association (SHOW 1) (Champ Show)

20-Jan-18

Best of Breed, Dog CC, Puppy of Breed


Manawatu Kennel Association (SHOW 2) (Champ Show)

9-Dec-17

R/Up Best of Breed, Best Dog, Puppy of Breed


Hamilton Kennel Association (SHOW 1) (Open Show)

9-Dec-17

R/Up Best of Breed, Reserve Dog, Puppy of Breed


Hamilton Kennel Association (SHOW 2) (Open Show)

19-Nov-17

Best of Breed, Dog CC, Open of Breed


Franklin Kennel Association (Champ Show)

18-Nov-17

Best of Breed, Dog CC, Open of Breed


Franklin Kennel Association (Champ Show)

29-Oct-17

R/Up Best of Breed, Res Dog CC, Minor of Breed


Taupo Kennel Association (Champ Show)

28-Oct-17

R/Up Best of Breed, Res Dog CC, Open of Breed


Taupo Kennel Association (Champ Show)

8-Oct-17

Baby Dog


National Dog Show (Champ Show)

3-Oct-17

Dog CC, Baby Dog


Dogue De Bordeaux Club (Champ Show)

2-Sep-17

R/Up Best of Breed, Baby of Breed


Huntly & District Kennel Association (Champ Show)

27-Aug-17

R/Up Best of Breed, Baby of Breed


Rotorua Kennel Association (Champ Show)

26-Aug-17

R/Up Best of Breed


Rotorua Kennel Association (Champ Show)

13-Aug-17

Best of Breed, Baby of Breed


Ladies Kennel Association (Clyde Rogers Memorial) (SHOW 1) (Champ Show)

Contact Details
Dallas & Heather Wood
Waikato, NZ
Phone : 0274831836
Email :
[email protected]