NZ Ch Taureauxroug Devoted to You
"Bella"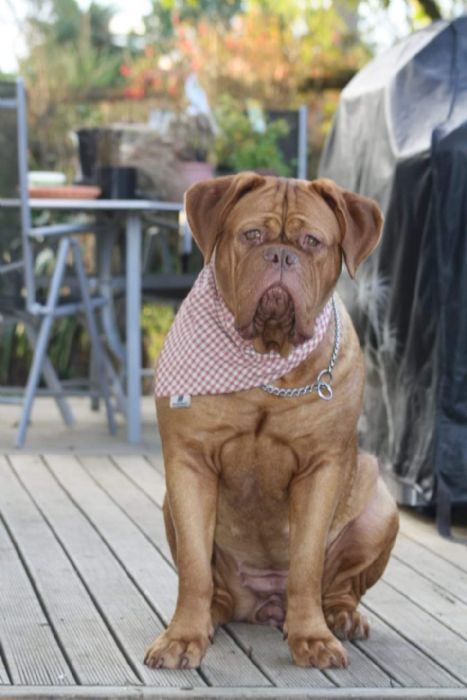 This Beautiful Girl has just started on her show journey. At the tender age of 5mths she was awarded Reserve Best of Breed, Best Bitch & Baby Puppy of Breed at the 2018 National Dog Show, her performance totally blew us away. She has such a beautiful nature and great temperament.

In 2018 Bella was also awarded her first two Challenge Certificates to work towards her Champain Title, looking forward to working with her in 2019 and seeing her develop.

2019 has seen Bella achieve her NZ Champion tile at 12mths, 8days...Super proud of this special girl.
Pedigree

| | |
| --- | --- |
| Breed : Dogue de Bordeaux | Bred by : Brooke Irwin |
| Sex : Bitch | Owned by : Dallas Wood & Heather Wood |
| Date of Birth : 27-Apr-18 | Handled by : Heather Wood |
| Call Name : Bella | Available for stud : N/A |

Sire : TAUREAUXROUG DOZER
S: MOLOSCYG OSTENTATIOUS
S: CH MOLOSCYG OSTE
D: AGAIN DE LEGEANE
D: CH AMEDANGE I WANT CANDY
S: BRONZANTIQ VIEUX SOLDAT
D: CH CAMELOT'S CHUNKY CHERUB
Dam : AMEDANGE FIRE IN THE SKY
S: BRONZANTIQ COUNTING STARS
S: AM CH DUKE UDSON JUNIOR DE LA DEMEURE COMBREENNE
D: CH ECSTASY DE LA TOUR GELEE
D: CH JERIVINDI SHALA
S: RHODONITE ROLEX EMBEREZ
D: JERIVINDI TALLULAH BELLE
Results
16-Jun-19

Junior of Breed


Hauraki Canine Association (SHOW 1) (Champ Show)

8-Jun-19

R/Up Best of Breed, Bitch CC, Junior of Breed


Black Hawk Auckland Exhibition Centre (SHOW 1) (Champ Show)

12-May-19

Bitch CC, Junior of Breed


Eastern Bay of Plenty Kennel Association (Show 2) (Champ Show)

11-May-19

R/Up Best of Breed, Bitch CC, Junior of Breed


Eastern Bay of Plenty Kennel Association (Show 1) (Champ Show)

5-May-19

R/Up Best of Breed, Bitch CC, Junior of Breed


Hawkes Bay Non-Sporting & Utility Dog Society (Champ Show)

5-May-19

R/Up Best of Breed, Bitch CC, Junior of Breed


Hawkes Bay Kennel Association (Show 2) (Champ Show)

4-May-19

R/Up Best of Breed, Junior of Breed


Hawkes Bay Non-Sporting & Utility Dog Society (Champ Show)

4-May-19

R/Up Best of Breed, Bitch CC, Junior of Breed


Hawkes Bay Kennel Association (Show 1) (Champ Show)

9-Mar-19

Best of Breed, Bitch CC, Puppy of Breed


Hamilton Kennel Association (SHOW 1) (Champ Show)

23-Feb-19

Best of Breed, Bitch CC, Puppy of Breed


North Harbour Kennel Association (SHOW 1) (Champ Show)

17-Feb-19

Puppy of Breed


Tokoroa Canine Association (SHOW 2) (Champ Show)

16-Feb-19

Best of Breed, Bitch CC, Puppy of Breed


Central North Island Utility & Non Sporting Dog Assn (SHOW 1) (Champ Show)

25-Nov-18

R/Up Best of Breed, Res Bitch CC, Puppy of Breed


South Taranaki Kennel Centre (Champ Show)

25-Nov-18

R/Up Best of Breed, Res Bitch CC, Puppy of Breed


Taranaki Non-Sporting & Utility Dog Society (Champ Show)

24-Nov-18

R/Up Best of Breed, Res Bitch CC, Puppy of Breed


Taranaki Non-Sporting & Utility Dog Society (Champ Show)

24-Nov-18

R/Up Best of Breed, Res Bitch CC, Puppy of Breed


South Taranaki Kennel Centre (Champ Show)

28-Oct-18

Best of Breed, Bitch CC, Puppy of Breed


Taupo Kennel Association (SHOW 2) (Champ Show)

27-Oct-18

Bitch CC, Puppy of Breed


Taupo Kennel Association (SHOW 1) (Champ Show)

22-Oct-18

Best of Breed, Baby of Breed


Tauranga Kennel Association (SHOW 1) (Champ Show)

6-Oct-18

R/Up Best of Breed, Baby of Breed


National Dog Show 2018 (Champ Show)

1-Sep-18

Baby Bitch


Huntly & District Kennel Association (SHOW 1) (Champ Show)

26-Aug-18

Baby of Breed


Rotorua Kennel Association (SHOW 2) (Champ Show)

25-Aug-18

Res Bitch CC, Baby Bitch


Rotorua Kennel Association (Champ Show)