Ch Doguewood Fatboy
"Buddha"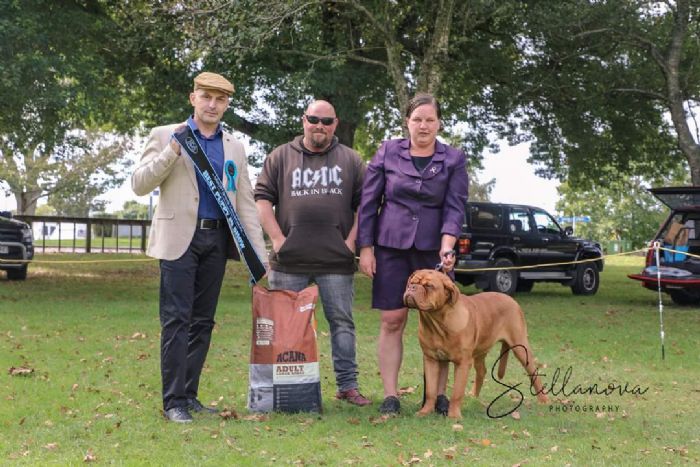 2020 Buddha has his first experience in the Show ring just prior to Christmas, he took it in his stride at just 16 weeks

2021 Buddha has been out and about travelling around the shows. To date he has achieved 2 Minor Puppy of Group awards and at the Mastiff Breeds Association Champ show he was Awarded Puppy in Show. Buddha shows well in the ring and we are looking forward to seeing how he matures.

2022 Buddha achieved his Champion tile at age 17mths, took us a little longer due to Covid reduced shows to attend.
Pedigree

| | |
| --- | --- |
| Breed : Dogue de Bordeaux | Bred by : Heather Wood & Dallas Wood |
| Sex : Dog | Owned by : Dallas Wood & Heather Wood |
| Date of Birth : 5-Sep-20 | Handled by : Heather Wood |
| Call Name : Buddha | Available for stud : No |

Sire : NZ CH REDSOMORE BULLETS AND ACES
S: EMBEREZ THE BIG SHOW
S: TYRANNUS TOMMY GUN AT EMBERZ (UK) AK01660003
D: TYRANNUS STORM AT EMBEREZ (UK) AJ01190307
D: PARAGON'S LUCIA VALENTINA (IMP USA) WS50755801
S: PARAGON'S PRINCE (IMP USA) WS43668306
D: BAYLA CUM SANGREAL (NLD) WS45074101
Dam : NZ CH TAUREAUXROUG DEVOTED TO YOU
S: TAUREAUXROUG DOZER 6100098118
S: MOLOSCYG OSTENTATIOUS 5100070730
D: AUST CH AMEDANGE I WANT CANDY 4100215981
D: AUST CH AMEDANGE FIRE IN THE SKY 4100264309
S: AUST CH BRONXANTIQ COUNTING STARS (AI) 4100231571
D: AUST CH JERIVINDI SHALA (IMP UK) AL00697003
Results
4-Dec-22

Best of Breed, Dog CC, New Zealand Bred of Breed


East Coast Ladies Kennel Association (Champ Show)

3-Dec-22

Best of Breed, Dog CC, New Zealand Bred of Breed


East Coast Ladies Kennel Association (Champ Show)

23-Oct-22

Best of Breed, Dog CC, New Zealand Bred of Breed


Tauranga Kennel Association (Champ Show)

2-Apr-22

Best of Breed, Dog CC, Junior of Breed


Cambridge Kennel Association (Show 1) (Champ Show)

26-Mar-22

R/Up Best of Breed, Res Dog CC, Junior of Breed


Mastiff Breeds Association (Champ Show)

11-Jul-21

Best of Breed, Dog CC, Puppy of Breed


Tokoroa Canine Association (Champ Show)

10-Jul-21

Best of Breed, Dog CC, Puppy of Breed


Kumeu Kennel Association (Champ Show)

12-Jun-21

Best of Breed, Best Dog, New Zealand Bred of Breed


Purina Pro Plan Auckland Exhibition Centre (Show 1) (Open Show)

9-May-21

Best of Breed, Dog CC, Puppy of Breed


Rotorua Kennel Association (Champ Show)

8-May-21

R/Up Best of Breed, Res Dog CC, Puppy of Breed


Eastern Bay of Plenty Kennel Association (Champ Show)

24-Apr-21

Best of Breed, Dog CC, Puppy of Breed


Hamilton Kennel Association (Champ Show)

17-Apr-21

Puppy in Show


Mastiff Breeds Association (Champ Show)

11-Apr-21

R/Up Best of Breed, Res Dog CC, Minor in Group


Hawkes Bay Kennel Association (Champ Show)

10-Apr-21

R/Up Best of Breed, Res Dog CC, Minor in Group


Ruahine Kennel Association (Champ Show)

21-Mar-21

Best of Breed, Dog CC, Puppy of Breed


Napier Kennel Centre (Show 1) (Champ Show)

21-Mar-21

Best of Breed, Dog CC, Puppy of Breed


Napier Kennel Centre (Show 2) (Champ Show)

20-Mar-21

Best of Breed, Puppy of Breed


Wairoa Kennel Association (Show 1) (Champ Show)

20-Mar-21

Best of Breed, Dog CC, Puppy of Breed


Wairoa Kennel Association (Show 2) (Champ Show)

27-Feb-21

Best of Breed, Dog CC, Baby of Breed


Central Hawkes Bay Kennel Society (Show 1) (Champ Show)

27-Feb-21

Best of Breed, Dog CC, Baby of Breed


Central Hawkes Bay Kennel Society (Show 2) (Champ Show)

30-Jan-21

Best of Breed, Dog CC, Baby of Breed


Hibiscus Coast Kennel Association (Show 1) (Champ Show)

30-Jan-21

Best of Breed, Dog CC, Baby of Breed


Hibiscus Coast Kennel Association (Show 2) (Champ Show)

17-Jan-21

Best of Breed, Dog CC, Baby of Breed


Wanganui Kennel Society (Show 1) (Champ Show)

16-Jan-21

R/Up Best of Breed, Res Dog CC, Baby of Breed


Manawatu Kennel Association (Show 2) (Champ Show)

16-Jan-21

R/Up Best of Breed, Res Dog CC, Baby of Breed


Manawatu Kennel Association (Show 1) (Champ Show)

10-Jan-21

Best of Breed, Best Dog, Baby of Breed


Hauraki Canine Association (Open Show)

2-Jan-21

Best of Breed, Best Dog, Baby of Breed


Huntly & District Kennel Association (Show 1) (Open Show)

2-Jan-21

Best of Breed, Best Dog, Baby of Breed


Huntly & District Kennel Association (Show 2) (Open Show)

6-Dec-20

R/Up Best of Breed, Res Dog CC, Baby of Breed


East Coast Ladies Kennel Association (Champ Show)

5-Dec-20

R/Up Best of Breed, Res Dog CC, Baby of Breed


East Coast Ladies Kennel Association (Champ Show)

Contact Details
Dallas & Heather Wood
Waikato, NZ
Phone : 0274831836
Email :
[email protected]